DAC-360
Shear Controls
Compact and complete control for shearing machines
The DAC-360 control provides a complete solution for shearing machines. It includes the control of backgauge, cutting angle, stroke length and gap, based on state of the art electronics.
Beside backgauge control, the DAC-360 automatically calculates the required setting for the cutting angle and gap depending on material properties and thickness. The stroke length is limited for minimal production time and related to the material length to cut.
The backgauge control supports servo control, two-speed AC control as well axes unipolar control. Depending on the application you can select either two side positioning or single side positioning with spindle fault correction.
Full pressure control for clamping and cutting is on board the DAC-360. With its bright LCD screen a clear and easy operation is offered. The numerical programming is user-friendly and guides the operator through the programming possibilities.
Features:
Panel based housing
Bright LCD screen
Backgauge control
Retract function
Cutting angle control
Cutting gap control
Stroke length limitation
Manual movement of axes
Force control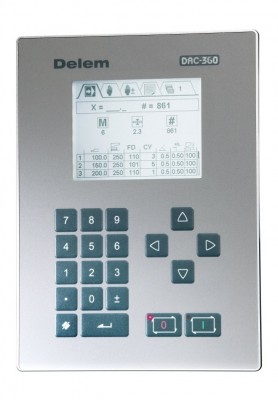 Technical Specifications
General
Program library
Millimetres / inches
Power-down memorization
Machine hour counter
Stroke counter
Housing
Panel-based, vertical housing
Dimensions: 189 x 257 x 44 mm
Axis
Stroke: 0 - 9,999.99 mm
Retract: 0 - 99,999.99 mm
Correction: 0 - 9,999.99 mm
Retract programmable
Simultaneous axes movement
Manual movement of axes
Force control
Clamping force
Cutting force
Programming functions
Numerical program setup
Backgauge position
Retract function
Angle programming
Gap programming
Stroke length
Step repetition
Material types
Thickness
Stock counter
Sheet position
Axis speed
Computed functions
Angle, gap and stroke length computation
Force (clamping / cutting)
Integrated functions
Diagnostic mode
Service mode
Axis control
+/- 10V for servo control
2-speed control for AC motors
Unipolar control including direction outputs (frequency inverter operation)
Digital Inputs/Outputs
Flexible I/O configuration
Optp-isolated I/O
Interfaces
Encoder interface: 5V or 12V single or differential ended
Max. encoder frequency: 1 MHz
RS-232 interface
Miscellaneous
Operator selectable dialogue languages
Offline software for backup/restore of parameters and programs
Product Configuration
Standard
4.7" monochrome LCD
High-quality foil cover with integrated membrane switches
Program memory of up to 100 programs
Up to 25 steps per program
Ordering Information
Please call 905-681-1580 to order parts and software. You may also send an email to