Profile Windows
Offline Controls
DA - Offline 2D / 3D software solution
The DA-Offline software maximises machine efficiency and production output of press brakes. Profile-W facilitates offline programming and simulation.
The latest offline software Profile-on-Windows offers an even more advanced programming screen. The graphical product programming shows a realscale representation of the intended product. This realistic product information gives feedback to the programmer on feasibility and required tools and tool adapters. Even special product operations like hemming are supported in both the graphical product programming screen and the bend sequence computation screen.
Product programming, make-ability checks, tool checks, operator training,production notes and many other activities can be carried out offline.
The Profile-on-Windows package offers the same familiar interface as the control. After programming, a product can easily be transferred to machine for production.
Features:
Full-scale offline programming
Graphical product programming and program generation
Feasibility studies and production preparation
Full 3D automatic bend sequence calculation
Collision detection
Product sharing over Windows networking with press brake CNC
Machine set-up preparation including print-out functionality
Production time calculation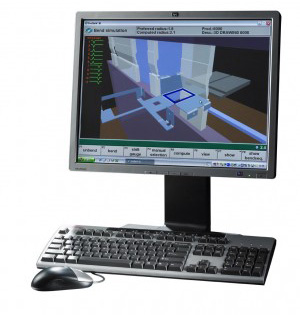 Technical Specifications
Programming functions
Alphanumeric product naming, up to 25 characters
2D / 3D real-scale product programming and visualisation
Automatic bend sequence calculation in 2D and 3D
Easy graphical bend sequence swap and move
Front part support visualisation
One page programming table
Graphical product and tool selection
Programmable axis speed
Free material programming
Program repeat max. 9,999
Number of steps up to 99
Step repeat, 99 max.
Product and tool search filter
Millimetres / inches
kN / Ton selection
Tooling
Graphical tool configuration
Multiple tool station set-ups
Tool segmentation visualisation
Alphanumeric tool identification, up to 25 characters
Free graphical tool programming
Tool adapter support
Computed functions
Tooling safety zones
Press force
Bend allowance
Crowning adjustment
Developed length
Bottoming force
Hemming force
Auto bumping calculation
Radius programming
Graphical print functions
Print-out of CNC program includes:
Product data
Bend sequence
Tool set-up
Miscellaneous
Multiple onboard dialogue languages
Help texts, via Online Help functions
User definable colour setting
VBend demo program included
System requirements
IBM compatible PC
Windows 2000 / XP
Min. 40MB free disk space
CD-ROM player
Parallel or USB port
Product Configuration
Standard
2D or 3D version
3D machine representation
X1-X2 angle programming
3D finger view standard available
DAonWindows familiar user interface
Available product models
Profile-W2D - 2D offline programming software
Profile-W3D - 3D offline programming software
Ordering Information
Please call 905-681-1580 to order parts and software. You may also send an email to